Electric dryers can cut your laundry time in half by actively drying freshly washed clothes. Learn about the latest suggestions in 2023.
There are many considerations when looking for a new clothes dryer, whether you're finally breaking up with the laundromat or upgrading your present machine. The proper unit will deliver numerous stacks of warm, clean clothing effectively and affordably; the wrong one could cost you hundreds in installation fees or extra utility bills. Here is all you need to know to choose the ideal dryer for your requirements.
EVVR has been at the forefront of designing and developing software and hardware solutions for smart homes. Whether you want to transform your conventional home into a smarter one or want to get initiated, EVVR has got you covered. Check out our range of products here!
Electric Dryers 101
Electric dryers use electricity to generate heat and are plugged into your home's existing electrical system. Unfortunately, electricity is not as energy-efficient as natural gas while being a far more accessible fuel option (especially if your home doesn't have a gas line). An electric dryer will run you more monthly money than a gas dryer unless you get all your electricity from solar panels. Electric dryers are typically less expensive than gas dryers.
Electric dryers are more common since they are less expensive upfront and do not need a gas line to operate. If you don't have a gas connection in your home and the timing isn't appropriate to install one, an electric dryer might be the best option.
Gas Dryers
Natural gas provided to the home via underground pipes is burned in the heating components of gas dryers. A wonderful fuel option for a dryer, natural gas combustion is a dependable and economical way to generate heat. It may heat your dryer more quickly and fiercely than electricity, resulting in shorter drying times and more thorough drying of clothes. Gas dryers are slightly more expensive than electric dryers, but you'll also need to pay to connect a gas line to your home if it doesn't already have one. Suppose your home doesn't have a gas line installed. A gas dryer can cost you extra upfront.
Even though gas dryers initially cost more to buy and install, the long-term operating costs of a gas dryer are lower since natural gas is less expensive than electricity. Consider a gas dryer to save money each month if your home already has a gas line or if you wish to install one.
EVVR Energy Monitoring Smart Plug is the ultimate gadget to turn a dumb washing machine or dryer into a smart one. The setup takes a few minutes, and you can control the power and inflow from the smartphone application.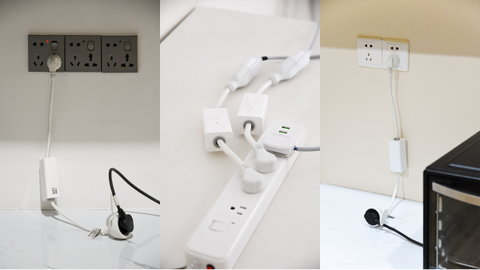 Which Dryer is Better? Electric or Gas
Gas and electricity are the two distinct fuel types that dryers utilize to heat their drums. Know that both gas and electric dryers will dry your clothes well when deciding between them. It's crucial to carefully consider your alternatives because the dryer fuel type you select for your new dryer will significantly affect how much energy your home uses (and, in most circumstances, how much it costs to run). While all dryers use energy to some extent to operate, heating the drums with electricity is optional.
Both electric and gas dryers need power to operate, but gas dryers also need a gas connection to produce heat. This implies that the BTU output of a gas dryer will be different from that of an electric dryer. In gas dryers, the drum, fan, lights, and controls are all powered by electricity, while natural gas or propane is used to produce heat. Electricity is the only source of power for electric dryers.
Gas and electric dryers come in various sizes, capacities, and styles, offering comparable performance, innovation, and convenience. However, not all houses have the necessary hookups to support gas and electric dryers.
Both gas and electric dryers under the Whirlpool brand are compatible with the hookups in your laundry area.
Best Electric Dryers of 2023
Here are the top electric dryers that you can buy in 2023. Of course, you can get the smart functionality from your appliance by getting EVVR Energy Monitoring Smart Plug. It lets you control your washer and dryer remotely and gives energy consumption insights for reduced utility bills.
Samsung 7.4 Cubic Feet Electric Dryer With Sensor Dry
Any way you slice it, electric dryers are pricey. However, this Samsung model packs many features at a relatively modest price. The dryer has a 7.4 cubic foot capacity, which is adequate for most families needs. It also offers 10 preset drying cycles to discover your ideal dryness level. To prevent you from wearing damp garments in the future, sensor drying also automatically adjusts the runtime and temperature. Additionally, the door may be configured to fit your laundry room's demands because it is reversible. Another wonderful feature is the dryer's smart care system, which lets you diagnose problems remotely using an app on your phone.
LG TurboSteam 9 Cubic Feet Stackable Steam Cycle Electric Dryer
The LG TurboSteam boasts one of the largest capacities on the market, whether you have a larger family or prefer to use your dryer as little as possible. Its enormous nine cubic-foot capacity is one of the largest you'll find. Even though you can accommodate a complete set of king-sized bedding in a single load, this dryer has advantages beyond its roomy size. Utilize LG's TurboSteam technology to remove wrinkles in 10 minutes or less, and use the company's exclusive ThinQ App to manage the laundry from anywhere. A FlowSense Duct Clogging Indicator is even available to alert you when cleaning your ducts is time. Although you generally won't base your choice on how your dryer looks inside, it's still useful to know that the stainless steel drum won't rust over time.
Whirlpool 7.4 Cubic Feet Electric Wrinkle Shield Dryer
The front-loading dryer from Whirlpool has many convenient features, some of which you might not have considered, to make doing laundry a breeze. With three sensors, this stylish dryer can monitor temperature and moisture levels to prevent overdrying and the dreaded still-damp effect after the cycle. To determine the ideal cycle combination for your specific load, choose from 36 available options. A sanitizing process is open to help eliminate 99.9% of common home microorganisms. A wrinkle shield feature allows for a further tumble after the cycle to reduce the likelihood that you will need to iron.
LG 7.4 Cubic Feet Stackable Electric Dryer
To maximize important floor space, LG specifically designed this dryer to be stackable. The dryer's 30-inch depth allows it to fit into smaller closets or locations with limited space. Plenty of garments may be stored in the spacious 7.4 cubic foot capacity, and sensor dry helps identify whether your load needs more time or can be finished sooner. Because of the dryer's reputation for silent operation, you can use it whenever you want without worrying about disturbing anyone. If you have to dress up for work, there's a cool extra feature to consider: If you prefer to finish your goods off that way, the dryer's EasyIron option will mildly dampen your garments for easy ironing.
Electrolux 8 Cubic Feet Stackable Electric Front Load Dryer with Steam Predictive Dry
The capacity of this Electrolux dryer is 8 cubic feet, which is more than typical. However, it is also Energy Star-Certified and contains several functions to assist you in avoiding operating your dryer for an excessive amount of time. The appliance's Predictive Dryer function instantly determines the ideal run time without wasting energy for your load, and the 15-minute fast-dry option enables you to get those pair of jeans out of the washer and onto your body as soon as possible. Choose from nine different cycles to find the best one for you. The Perfect Steam wrinkle-releasing feature keeps your clothes smooth and prepared to wear as soon as they come out of the dryer.
Washer Dryers Vs. Sole Dryers
Space is one of the first and most important factors to consider. A washer-dryer is the obvious choice if you have room for only one appliance and want to utilize a tumble dryer.
It's crucial to consider an appliance's ongoing costs in addition to the purchase price.
The most affordable washer dryers are priced at about £300, while the most affordable freestanding dryers are around £150, and most washing machines start at £200.
However, a washer-dryer can become more expensive over time because it consumes more water and is less energy-efficient. While a solo washing machine's operating expenses aren't considerably lower than a washer-dryer washing function, tumble drying is a different story.
EVVR Energy Monitoring Smart Plug Makes The Best Companion For Your Electric Dryer
Say you do not want to stay in the laundry room to see the wheel spinning. The best partner to make the laundry day more productive by keeping an eye on the washer and dryer is EVVR Energy Monitoring Smart Plug . While you enjoy free time after loading up the machine, it can tell you about energy consumption and lets you control the appliance remotely. So, what are you waiting for? Get yours today!