Looking for the best smart home coffee grinder in 2023? This blog will shed ample light on all the best picks. Get EVVR Energy Monitoring Smart Plug for a better experience!
The first sip of coffee in the morning has a certain charm about it. The most tired mornings can become an energized and promising day thanks to that fragrant combination of rich ingredients and the subtle caffeine boost. For many people, this daily ritual involves more than simply the caffeine; it also involves the sensory experience, arousing aroma, and mouthwatering flavor.
In this blog, look at the smart coffee grinder, a revolutionary new coffee-making tool. Learn how this technological marvel may improve your coffee-making process by providing accuracy, customizability, and the ideal grind for your favorite brew. Join us as we reveal the secrets of a morning routine that is about more than simply coffee; it's about getting your day off to a good start.
EVVR has been spearheading the smart home shift by designing and improving innovative products and services. Whether you are an enthusiast or want to test the waters, we have something for everyone. For starters, get our EVVR Energy Monitoring Smart Plug to control your appliances and get insights on power consumption remotely.
What Makes A Coffee Grinder Smart?
To improve the coffee brewing process, a smart coffee grinder is a coffee grinding machine that includes cutting-edge technology and connectivity features. Smart coffee grinders offer various practical and programmable options, unlike conventional ones requiring manual operation or simple settings. Here are some essential characteristics and capabilities of smart coffee grinders:
Connectivity: Wi-Fi or Bluetooth connectivity is frequently found in smart coffee grinders, enabling them to connect to your smartphone or tablet. You may use this connectivity through a specialized app to remotely monitor and manage the grinder.
Another great option for connectivity is the EVVR Energy Monitoring Smart Plug. It works through the dedicated app or Apple products, allowing you to turn the coffee grinder on or off from a distance. Also, it offers power consumption data based on your usage.
Dosing Control: Many intelligent grinders come with dosing control features that let you grind a precise number of coffee beans. This guarantees you always obtain the appropriate coffee grounds for your drink.
Customizable Profiles: You may make and preserve bespoke profiles for various coffee beans or brewing techniques using some smart grinders. This implies that switching between settings for various coffee kinds or preferences is simple.
Notifications and Alerts: When your coffee beans are freshly ground or when maintenance is necessary, such as cleaning or part replacement, smart grinders can send notifications or alerts to your smartphone.
Data and tracking: They might also compile information on your preferences for grind size and quantity when preparing coffee. You can use this knowledge to improve your brewing technique gradually.
Voice Control: Some smart coffee grinders are capable of voice command and can be operated using voice assistants like Google Assistant or Amazon Alexa.
Integration with Coffee Machines: Smart grinders can frequently work harmoniously with smart coffee makers to provide a reliable and practical coffee-making experience.
Firmware upgrades: To improve the operation of the grinder or add new features, manufacturers may offer firmware upgrades, keeping your grinder current.
User-Friendly Interfaces: Smart coffee grinders generally come with companion smartphone apps with user-friendly interfaces that simplify changing settings and tracking the grinding process.
Smart coffee grinders are generally designed to make it easier to prepare coffee, allow fine control over grind settings, and enable convenience through connectivity and customization options. These attributes are designed for coffee lovers who seek consistency and a unique coffee experience.
Best Smart Home Coffee Grinders In 2023
Now that we have made a solid case for smart coffee grinders in the opening sections, let us go through some of the best choices in 2023. We have covered a wide range, from super-expensive to the best value for your money. We aim to give you the caffeine kick you crave in the early mornings. So, let's take a look!
It pays to have a solid companion with your smart coffee grinder to elevate the coffee brewing experience. EVVR Energy Monitoring Smart Plug complements all of your appliances by offering better control and insights so you can optimize your utility spending!
OXO Brew Conical Burr Coffee Grinder
In our tests, the OXO burr grinder impressed our professionals. In various settings, we discovered that it generated excellent even grounds that could be used for everything from cold brew to espresso. Of all the coffee grinders we examined, the hopper's capacity is the highest, holding up to 3/4 pounds of coffee beans. The coffee beans are kept fresher longer thanks to the hopper's airtight top and UV-blocking tint.
The grinder is operated by pressing a button, grinds into a static-resistant stainless steel container, and has a top with a hole large enough to pour the grounds into a coffee filter easily. Additionally, the cover minimizes the risk of grinding residue flying everywhere. After emptying the grounds, you may securely click the container into place to make room for the upcoming batch.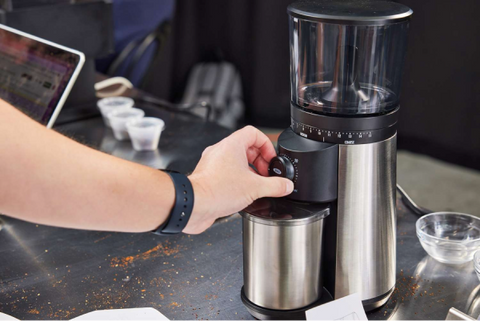 Hamilton Beach Fresh Grind Electric Coffee Grinder
We were happy that this Hamilton Beach model is less expensive and still produces even grinds because cheap blade grinders sometimes generate an uneven grind. In our tests, it distinguished itself for grinding quickly and evenly. Up to nine teaspoons of coffee beans can be securely ground at once. The transparent top, which lets you watch your beans grind in real time, was well-liked by our experts. Because the grinding container is detachable, emptying it into a coffee filter is simple. The static in the container causes grinds to stick to the sides, which is the only issue we have.
The 6-, 10-, and 12-cup coffee grounds marks, which were absent from other blade grinders, were particularly well-liked by our experts since they make it easier to determine how much coffee to grind to produce a specific size pot. We particularly adore the base's concealed cord storage, which allows you to tuck the cord away when not in use to lessen clutter.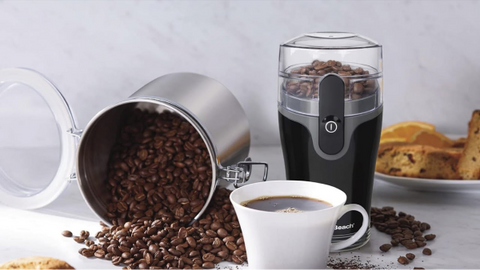 Cuisinart DBM-8 Supreme Grind Automatic Burr Mill
You may use the Cuisinart Supreme Grind Automatic Burr Mill to make espresso, drip coffee, French press, and other types of coffee because it has options for 18 different grind sizes. The coarsest grind setting is ideal for cold brew and French press, the medium grind setting is ideal for drip and pour-over, and the fine grind setting is good for espresso. In addition, a batch of beans can be ground to make four to 18 cups of coffee using the adjustable dial.
The grinder was louder than a few of the machines we examined throughout our tests, but it wasn't a deal-breaker. A tiny opening in the grounds container allows for a mess-free transfer of the grounds into a coffee filter. With just one hand, we could quickly and easily replace the container in the base. The grinder includes a cleaning brush and dual-purpose coffee scoop.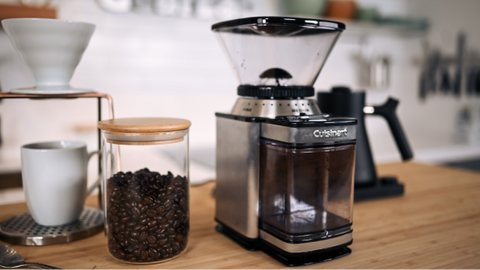 Bodum Bistro Burr Coffee Grinder
Bodum's grinder's labeled burr coffee grinder makes selecting a setting simple. Based on the type and quantity of coffee you're producing, a chart is carved onto the plastic top recommending how long to grind the beans. The 7.75-ounce hopper's tilted design allows beans to flow into the grinder; turn the hopper to choose from 12 grind settings. The Bodum Burr Coffee Grinder in our test generated consistent grounds on the fine, medium, and coarse settings, which were notably different in size, ideal for espresso, drip coffee, French press, and cold brew.
The Bodum Grinder features a timer that allows it to grind for up to 20 seconds. However, the instructions specify that there must be a 5-minute break in between each 20-second grind. Its glass container for coffee grinds includes a top that keeps grounds from blowing out in all directions.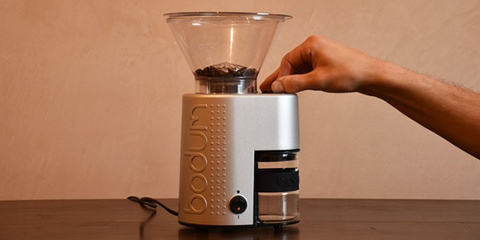 Fellow Opus Conical Burr Coffee Grinder
The Opus Conical Burr Coffee Grinder is difficult to overlook with its clean lines and contemporary matte finish. The lid's display showing the grind settings for espresso, pour-over, drip coffee, cold brew, and more makes it simple to find your grind setting without consulting the instruction booklet, and it was intuitive to operate in our tests. It features 41 grind size options, and our experts discovered that the grind settings were precise and consistently produced equal grinds throughout a range of settings. The grinder has timed grinding settings of 30, 60, and 90 seconds and 2 minutes, while not having options to grind a certain number of cups.
It was one of the quietest grinders in our most recent test, so you won't have to worry about starting your morning with noisy grinding or waking someone up. We were delighted by the powerful magnetic base that held the grinds cup in place and how simple it was to fill the hopper thanks to its huge hole.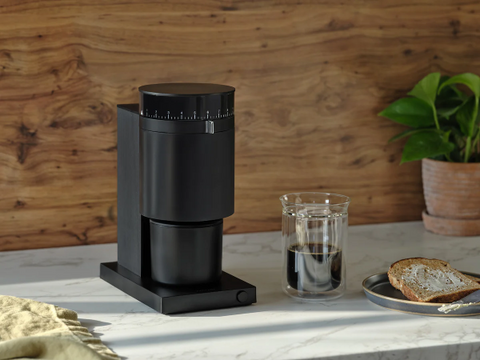 Get EVVR Energy Monitoring Smart Plug Today!
Being a coffee enthusiast, nothing is more appealing than a cup of fresh brew in the morning. However, controlling the appliances and not vice versa would be best. EVVR Energy Monitoring Smart Plug is a nifty device that gives you the power to control your coffee grinder remotely. With in-built sensors and gauges, you can also get insights on power consumption to optimize your utility bills. So, what are you waiting for?