Our guide helps you find out the best Wi-Fi mesh routers right now. Learn about all their features and get the one that meets your needs!
In this age of technology, life without Wi-Fi is hard to imagine. How can we make this experience easier and more seamless? Enter the Wi-Fi mesh router.
These routers are the next periodic evolution of wireless technology. Traditional routers have so many drawbacks. From having poor speeds to a Wi-Fi dead zone, the list goes on.
A Wi-Fi mesh router gives a solution to all of these problems and more. But currently, in the market, there are so many varieties of Wi-Fi mesh routers. How can you pick the right one?  Don't worry,  we are here to make it easy for you.  In this blog, we will be discussing some of the  Best Wi-Fi mesh routers that are available to purchase.
What is a Mesh Wifi Router?
Let's have a look at how a Mesh Wi-Fi router works. Basically, it is two or more wifi routers working with each other to create a strong, unified network. This way all the devices in a home or a workplace can have a smooth and speedy connection. These multiple routers help cover a large area. So it is an Ideal setup for a large office or multistoried house.  In a simple sentence, a mesh Wi-Fi system uses multiple devices to create a unified single network.
The benefits of using a mesh Wifi router are so many.  To start, a mesh wifi router can cover a large sum of area, thus eliminating all the dead zones. Mesh routers also give the benefit of not having to manually switch between networks when roaming. The Mesh router also keeps the internet connection stable and speedy. As the mesh system has multiple routers, it can connect to more devices than the traditional router.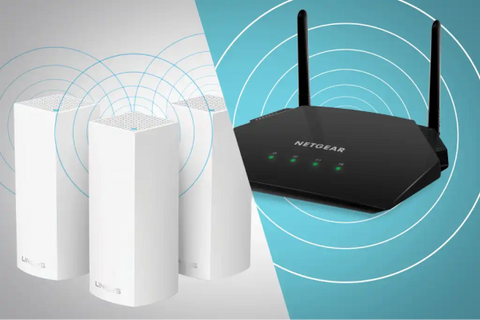 Benefits of Wifi Mesh Router
Wifi mesh routers come with outstanding features and mind-boggling benefits, which makes them highly superior to the regular routers. Let's look at some of those benefits in detail:
Range
One of the best features of a Wi-Fi mesh router is its  Coverage. A single Wi-Fi router cannot always cover the entire house.  Often there are multiple dead zones where  Wi-Fi reception is very poor.  A wi-fi mesh router uses a special technology to communicate with numerous routers which are conveniently placed in different parts of a house. Thus creating one Large wifi network that Eliminates any kind of dead zone or incomplete coverage. Any house more than 2,500 sq. ft. or has two or more stories will benefit from a wifi mesh router system.
Speed
Another major feature of a wifi mesh router is its speed. Having multiple nodes spread across the home, a wifi mesh router can provide constant speed anywhere in the home. Previously the speed falls or the connections get lost as one gets further away from the router. But the wifi mesh router keeps connected between themselves to ensure stable speed.
Setup and Software
All the mesh wifi systems have a central app that is used to manage the system. This app is very convenient for a basic user. A simple step-by-step guide is provided so that one feels at ease when setting up the device for the first time. Controlling the speed of individual users to parental control, all can be done in the app. There is also a firewall security system installed in every software.
Regular Router vs Wifi mesh Router
Wifi routers often get neglected because people consider them as basic tech. But as technology advances, innovation is introduced to the field of networking. Wifi mesh technology is such an innovation.
There are numerous benefits that a Wifi mesh router possesses which you may not find in regular routers. Here are some of the reasons why mesh routers are considered superior:
Regular routers have a limited range but a wifi mesh router has almost twice or more range.

Regular routers can not provide stable speed to all the devices connected to them. A Wifi mesh router, on the other hand, can easily maintain speed at any distance with outstanding stability.

Wifi mesh routers are quite easy to control because they have a mobile app. Traditional routers do not have user-friendly applications.

Regular routers are quite cheap but the wifi mesh routers are expensive.

Wifi mesh routers need multiple stations whereas regular routers need only one.
Best Mesh Wifi Routers in 2023
When it comes to the Best mesh wifi routers, there are so many models to choose from. Some models have a wider range whereas some support new wifi 6e technology. Below is a list of models that are currently available in the market.
Netgear Orbi WiFi 6e (RBKE963)
The new Netgear  Orbi wifi 6e Is easily one of the fastest Wi-Fi 6e enabled mesh routers in the world. When it comes to pricing it also stands out! One thing to note: you should have the fastest broadband Internet to utilize its maximum speed. It also has excellent coverage of up to 9,000 square feet. Orbi WiFi 6E comes 3 with a set. This mesh system also supports devices up to 200.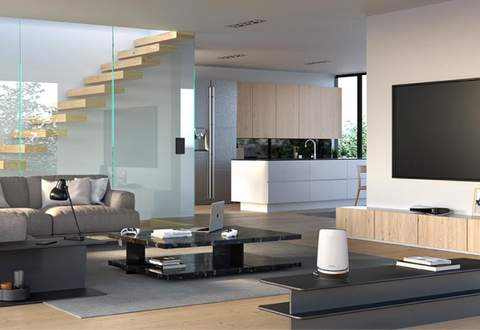 Pros
Very easy to install.

WiFI standard 6e with speeds up to 10.8Gbps

Supports up to 200 devices
Cons
Quite expensive.

Not the best looking.

Has fewer USB ports
Asus ZenWiFi AX (XT8)
Asus is another reliable brand when it comes to mesh router technology. The latest Wi-Fi 6 is introduced in Asus ZenWiFi AX (XT8). It is also quite a pricey system. It has an excellent range (up to 5500 sq feet) despite having only two   Routers. The design is quite minimalistic. That's why it can be put anywhere and will not cause any distractions. This system comes with built-in security so there is a piece of mind for the user.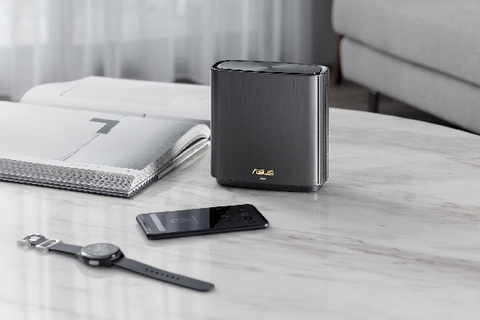 Pros.
Convenient installation

Great Wi-Fi 6 speed

USB connectivity

Has 2 year's warranty
Cons.
More on the pricey side

Take time to connect to routers if Power drops
Google Nest Wifi
If you need a simple and affordable mesh Wi-Fi system then Google nest Wi-Fi is the best bet for you. Acting also as a Google assistant, this mesh router is a convenient two-in-one solution. This system is quite reasonably priced. The range is also quite decent for the price. Google nest Wi-Fi looks quite attractive. That's why it can be placed anywhere in the home. Google nest wifi can be expanded up to 5 routers. It is the ultimate companion for smart home users because of Google Assistant. Controlling any smart device becomes a breeze.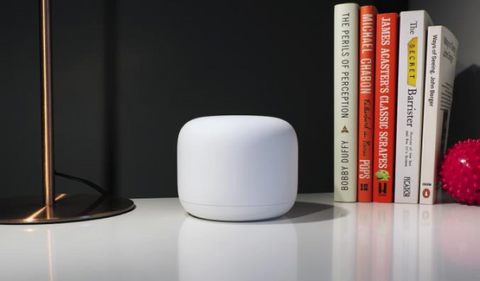 Pros.
Stylish design

Has Google Assistant Built-in.

Easy to set up
Cons
There are no USB ports.

Range is lackluster

No WIFI 6 support
Eero Mesh Wifi Router
Eero mesh wifi router is an Answer from Amazon to the mesh router ecosystem. This mesh Wi-Fi router comes 3 in a pack. Eliminating all the dead zones in the House. This works perfectly with Amazon Alexa. The software comes with a security feature . But that will cost a monthly fee. This will be a great wifi mesh  router for those who want to control smart devices using Amazon Alexa.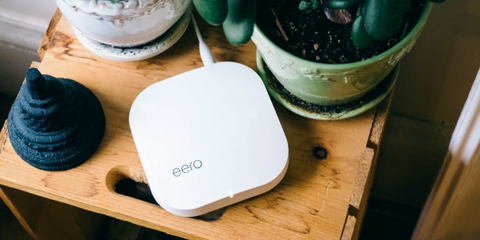 Pros
Friendly installation Guide

Small in size, easy to store

Security features are available
Cons
A bit expensive

Needs a monthly subscription fee for security

 
FAQs of Mesh WiFi Router
Is a mesh Wi-Fi router better than a traditional Wi-Fi router?
One single mesh router can provide a better range than a traditional router. If multiple mesh routers are connected then it will provide the best performance and coverage.
How many devices can a mesh router connect at a time?
Normally a mesh Wi-Fi system can connect up to 200 devices at a time.
What benefits can I expect when I upgrade to a mesh router system?
 Firstly you will get wide coverage. Secondly, you will get a stable and speedy connection. Finally, you will get software that is easy to control your mesh Wi-Fi network.
Is a mesh Wi-Fi router the same as a repeater?
No repeaters only create an extension of a current network. but a Wi-Fi mesh router creates a single network with a combination of towers.
Is mesh Wi-Fi faster than a normal router?
Yes, it is faster.
Does setting up a mesh Wi-Fi router require a lot of work?
Not at all, just connect the routers with an ethernet cable and download an app on your mobile. The app will easily guide you. it will only require three or four steps. 
Does the Wi-Fi mesh router support tri-band?
Yes, most Wi-Fi mesh routers support tri-band.  
Final Thoughts
It is quite safe to say wifi mesh routers are the future of wifi technology. Throughout the blog, we have tried to give you a basic idea of wifi mesh routers and how it works.
Some of the Best wifi mesh routers were also recommended to you. As the number of smart devices increases in our households, we need complete coverage of our homes more than ever.
Mesh Network works great with Smart homes. To have the best internet experience, there is no alternative to wifi mesh routers. Evvr has a great home automation solution to control all smart devices. It works Great with zigbee and z-wave Smart devices. If you want to know further about wifi mesh routers or other related products don't hesitate to contact us.