Want to turn your home into a smart one? This blog will cover all the aspects, from setting up the home to the pricing and suggestions for automation. Read on to learn more
A smart home is a place that anticipates your needs and gives you the control you need to customize your surroundings. At least, that is the pitch. Putting everything connected is challenging, but the appropriate arrangement and device mix can simplify your life and provide convenience.
The smart-home market is hard to master due to the number of ecosystems and standards that must be understood, not to mention the wide range of gadgets. This smart-home guide was created to highlight your options, decipher technical terms, and assist you in comprehending the effects of your decisions. A little forward preparation is helpful.
EVVR is synonymous with excellent smart home solutions and automation. Since our inception, we have successfully developed and refined products and services for our clients. These include EVVR Center Lite and EVVR Smart Plug. Whether you want to get a taste of smart living or want the revolution, we are the ones to call!
Your Comprehensive Guide To Smart Home
Let us explore each aspect of setting up a smart home for you in 2023!
Choose The Ecosystem
Choose the ecosystem that best suits your needs before looking for devices. The top names are Google Home, Amazon Alexa, Apple HomeKit and EVVR. The latter is the best option if your home is full of iPhones, iPads, and Macs, but if you own an Android phone, you might prefer Google's Home platform. Although third-party devices frequently support many standards, choosing one dominant ecosystem will make things function more smoothly.
Compared to other mainstream ecosystems, EVVR offers much better compatibility for appliances and gadgets from across different platforms.
Get A Smart Hub (EVVR Center Lite)
Using an app or a voice assistant, you may use your smartphone to manage your smart home appliances. To ensure that your assistant can hear you at all times (and that you don't have to shout commands), we advise installing a combination of smart speakers and smart screens throughout the house. These smart displays and speakers are some of our favorites. The latter are more adaptable since they provide straightforward touch controls that everyone may utilize. It's crucial to consider your roommates and visitors who might need to be more comfortable with smart-home settings.
Again, EVVR Center Lite is a no-brainer when looking for a smart home hub that is future-proof, compact, and compatible with a wide range of devices in the market.
Get Better WiFi
A dependable WiFi connection is necessary for nearly all smart home appliances. The two most commonly utilized frequencies are 2.4 GHz and 5 GHz, which you must know. Most smart home devices still use the 2.4-GHz frequency, although this is beginning to change. While the 5-GHz frequency offers quicker speeds, it has a greater range.
WiFi 6E, a recently developed WiFi protocol, supports 6-GHz, which may be even faster (WiFi 7 will also use the 6 GHz band). Even though WiFi 6E has an even shorter range than 5 GHz, it can manage more devices, consumes less power, and is more secure. However, all your devices, including your mesh network or router, must support WiFi 6E. While more WiFi 6E gadgets are on the market, you should primarily think about it now for future-proofing.
Learning About Smart Home Standards
The smart home industry has been hampered for years by a need for uniform standards. Although things are starting to shift, they are still unclear. Several wireless standards connect your smart home's devices in the background. Philips Hue, Logitech, LG, and Samsung are just a few companies that use ZigBee, while Honeywell, GE, and Samsung employ Z-Wave.
Apple, Google, and Nanoleaf all employ the recent standard Thread to build mesh networks without needing a hub. Then there is Bluetooth, followed by Bluetooth LE. There are many other standards available
Regardless of the underlying technology, it is up to device manufacturers to decide which of the three key ecosystems they want to support (if not all of them).
EVVR is compatible with all the leading standards in the market, including Z-Wave, ZigBee, and more.
Setting Up Devices & Appliances
Major ecosystems are easily compatible with big smart-home companies. For instance, Philips Hue lighting can be added straight from the Google Home or Apple Home apps. It's unfortunate that this is uncommon. For most devices, using a third-party app will be necessary for initial setup, configuration, and control.
Every smart home gadget comes with a setup manual that often instructs you to download the companion app first. Before mounting anything or throwing anything away, scan a QR code or punch a serial number to get started. These codes are usually found on the back or underside of gadgets or in the instruction manual.
Pick Strategic Spots
It's crucial to choose the right location for each smart home gadget. Most likely, they'll require a power outlet and a strong WiFi signal. Accessibility is another important factor to consider, especially if the item is battery-operated and needs to be recharged periodically. Only physically install something, such as a security camera, after first checking the device's functionality.
It's crucial to adhere to a consistent naming convention despite the temptation to give your smart home gadgets humorous names or names that give you little thinking. Voice commands must be precise in order to be effective.
Get EVVR Smart Plug
Whatever you are getting for different rooms in your smart home, you need to get EVVR Smart Plug to complement the setup. It is a nifty device that allows you to turn your dumb lights into smart lights. Also, you can hook it up with other sockets to take advantage of the remote controllability. In a nutshell, your smart home setup will only be complete with this add-on!
Take Advantage of All The Features
The app of your preferred smart-home ecosystem lets you join devices or arrange them according to rooms. For instance, when you have several lights, you need to do this to avoid saying, "Turn on living room light 1," then "Turn on living room light 2." To turn on the lights, say, "Turn on living room lights," after grouping all the lights.
Popular Smart Home Automation Ideas
Smart Locks
Installing smart locks will allow you to unlock your doors with your phone or a keyless entry system. Depending on the model, smart locks can cost as much as $400, with prices starting at $150.
Smart Thermostats
Smart climate control equipment, such as smart thermostats, enables house owners to maintain appropriate temperatures and humidity levels, set routines, monitor energy consumption, and receive reminders to repair their air conditioning systems.
Door Cameras & Bells
Use video cameras and doorbells to protect your house, whether at home or away. For instance, Ring offers doorbells priced between $100 and $350. They also provide package price alternatives for home security automation, such as doorbell and camera kits and alarm security kits.
Smart Lighting
There are a few smart lighting choices available to homeowners. Depending on the brand, they can buy smart light bulbs, which may cost anywhere from $5 for a single bulb to $49.99 for a four-pack, and use their cellphones to turn these lights on and off. Or, consumers can spend money on a subscription service for a home connection to automate various household tasks, including lights.
Smoke Detector
A smoke detector will notify a household when there is smoke so they can immediately put it out. Smoke detectors may typically be bought separately and cost between $50 and $150 apiece.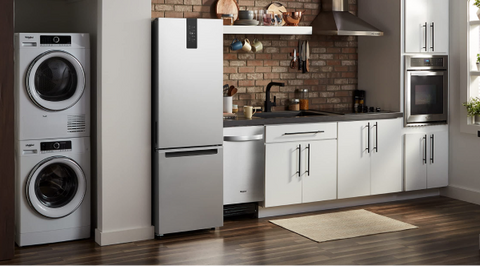 Cost of Setting Up A Smart Home
According to estimates, you should be able to spend around $2,000 to $7,000 if you want to revolutionize your living space.
Remember that this cost varies depending on the installation you plan to undertake at home, the brands you choose to buy from, the businesses you work with, and the fees they charge.
Should You Do It Yourself (DIY) Or Hire A Professional?
The solution to this query frequently depends on the home automation components you must install. In some circumstances, a homeowner may find it simple to install a Ring camera themselves. Things might get tough if you don't have wireless systems set up or need to automate multiple rooms in your house but don't have the time to do it all.
Having a dependable professional install everything could be more expensive. Still, homeowners will experience more peace of mind knowing there's less chance of something going wrong and all smart gadgets have been correctly incorporated into the home.
Enjoy Smart Living With EVVR!
Every smart home needs a head of operations, and a command center, to control all the appliances and devices, keeping them in check. The better that brain is, the better your living experience will be. EVVR is at the forefront of the smart revolution with exceptional products and services. EVVR Center Lite punches above its weight class and offers security, safety, and hassle-free living. Combined with other products from EVVR, such as EVVR Smart Plug, EVVR Pad S, and EVVR App, you have the dream setup for convenient living!