There's much more to know about how the smart home real estate business impacts realtors and how they can turn properties into smart homes …
If you are a realtor, your main priority is to consider buyers' needs and come up with a home with all the in-demand features. Nowadays, integrated smart home technology is the most popular thing potential buyers want in a house. It's because a smart home system allows them to control all of their electronics or appliances through a few taps on their phone or voice commands - saving time and providing a more cozy environment to live in.
Along with buyers, realtors can also benefit from smart homes as such properties offer more resale value and attract potential buyers. There's much more to know about how the smart home real estate business impacts realtors and how they can turn properties into smart homes, so let's dig further!
What is a Smart Home?
A smart home typically refers to a residential building equipped with all the smart or advanced electronics or appliances that can be easily operated using a smartphone or any smart device from anywhere.
The time when connecting smart devices needed wiring has long gone; now, all devices come with wireless protocols, so you can easily make your home smart by connecting them to your WiFi, Bluetooth, ZigBee, or Z-wave. Some of the most common examples of smart home automation are integrating smart lighting, smart heating system, smart security devices, and much more.
Moreover, you can even schedule when to turn your lights on and off while you are away, monitor your cat-feeding smart device, and adjust the water level of your smart home planter to keep everything streamlined and automated. This is very beneficial for those people who are primarily busy or travel a lot. The benefits of having a smart home don't stop here; there's much more that you should know to use your electronics to their fullest. Let's discuss everything in detail!
Benefits of Having a Smart Home
If you think that innovative home technology is only to keep up with modern tech trends, you are wrong. Many benefits of home automation will make you realize how smart home real estate can make life easier for you. Here are a few of those advantages:
1.    

Extra Convenience
A smart home real estate offers you great convenience as you can control and manage all your devices through a single interface. There is no need to install multiple apps or do countless wirings to be in charge of your device; learn the usage of one app and install it on your phone and you'll be able to get into multiple functions and devices with a few taps. Moreover, these smart devices are either Alexa or Siri compatible, so you don't have to do anything manually and control everything through voice commands.
2.    

Additional Home Security
You can add additional security or surveillance features or devices to your smart home real estate system to take the security to another level. For instance, you can install smart motion sensors or innovative door locks and manage them through your smart device. These intelligent security devices quickly notify you on your smartphone or anything when there's suspicious motion in your home.
Additionally, you can schedule your lights to turn on at night when no one's home to ensure people with malicious aims stay away. You can also connect smart cameras to your phone and monitor who enters the house and at what time.
3.    

Have Control Over All Home Functions
Never underestimate the power you get when your home is fully automated because a smart home allows you full control over all the functionalities. For instance, if you aren't home on a blazing hot day, you can quickly turn on your home's HVAC system and let everything cool down. Moreover, if you are hungry and occupied at a nearby utility store, you can activate your smart oven to start preheating your dinner, so it gets ready by the time you reach it.
4.    

Enhanced Energy Efficiency
If you know how to utilize smart home technology properly, you can take a step towards energy efficiency. For instance, if you have a smart thermostat, you can achieve more precise control over the heating and cooling, along with saving energy. It's because a programmable thermostat analyzes your temperature preferences and then offers you the most energy-saver settings that help you cut down on your energy bills.
Why and How Smart Home Technical Changed Real Estate?
Technology is affecting everything, and with the introduction of innovative wireless smart electronics or appliances, a smart home has become the top priority of almost everyone. That's why the real estate business is also impacted by smart innovations - quickly changing the way of living.
Nowadays, people tend to buy a home with integrated smart technology to be more energy efficient and productive. Looking at this tech trend, realtors are also going towards smart home real estate to gain maximum revenue from each property. Here's how the technology has impacted the real estate smart home business overall: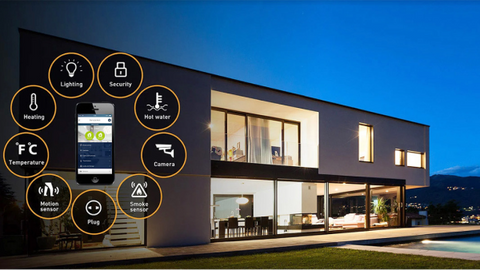 1.   
Resale Value
The most significant impact of smart home real estate is that it offers great resale value to the realtor. Of course! The main concern for a realtor is how much price a specific smart home is going to sell. A house filled with amenities and smart devices has a higher market value than an ordinary one. This is the reason that more and more real estate properties are getting integrated smart technology to cater to people's needs and offer major resale value in return.
2.   
Potential Customers
A property equipped with all the modern gadgets will likely attract a different kind of buyer than ordinary ones. According to a study, around 47% of millennials have smart devices in their home. So, when you put a smart home real estate for sale as a realtor, you will usually come across millennials willing to pay a hefty price for all the amenities.
3.   
Market Time
We all know there's no fixed time for how quickly a house will sell, as it all depends upon its structure and features. However, a home smart real estate has more chances of selling quickly than traditional homes, so the market time for intelligent home real estate is relatively low.
What Consumers Value Most in Smart Home Real Estate?
Although it's suggested to add as many smart devices or amenities in a home as possible, there are a few things that catch consumers' eye more quickly and can make a better impact on the overall resale value of the smart home real estate. Here are a few of those things:
Smart Lighting
The way a home is lit impacts its overall outlook, and it's among the first things a consumer or a potential buyer sees when they are looking for smart home real estate. You can add smart bulbs or a smart light switch to automate everything, as they are the best lighting for real estate solutions. Users who know they have plenty of lighting and can easily adjust them through their smart devices tend to like it more.
Smart Fixtures
Instead of adding different smart devices, installing smart fixtures can be more valuable for a consumer. With a smart switch or a smart in-wall relay switch, you can easily manage all the home appliances or electronics connected through a few taps on your phone. Just connect the device with a wireless internet connection to automate everything. Moreover, with a smart switch, you can even control the bulbs that don't have embedded smart technology.
A smart switch is an excellent option if you are constructing a new home, but if you are trying to introduce a smart system in an already-built home, then a smart in-wall relay switch is the best. In-wall relay switches don't need a neutral wire and easily get installed without disrupting the building structure.
Evvr has the best in-wall relay switches that are small in size and allow you to control them through smartphone and voice commands. The Evvr in-wall relay switch has three versions: Homekit, ZigBee, and Z-Wave. You can select the one that best suits you and create hassle-free 3-way or 4-way smart fixtures.
Smart Security System
Security is the top choice for everyone, and consumers value homes with excellent smart security systems. You can easily make your security system smart by connecting it with your Evvr in-wall relay switch and getting a notification every time someone enters through the doors.
Conclusion
Smart home real estate has taken the world by storm and proved a landmark in the real estate business. A smart home offers the consumer energy efficiency and enhanced security and productivity. If you are building a new real estate home or installing an innovative system in a previous one, the Evvr in-wall relay switch is the perfect home automation solution. With this, you can have excellent lighting for real estate without any flickering issues.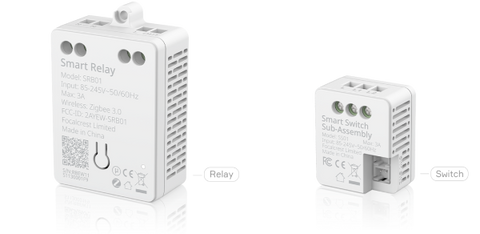 Moreover, it works with all types of switches and has a pretty small size, along with the split-type design that incorporates any socket without disturbing the home device. What's the best part?
No neutral wire is required for its setup, and you can be in complete charge of your smart home real estate by connecting this Evvr in-wall relay switch with a wireless connection. If you want more home automation devices to create an exceptional smart home real estate, the Evvr Center Lite, Evvr Hub, Evvr Pad S, etc., are all at your service. So, quickly grab your favorite device and be in the race for savvy home realtors!