surge protector vs extension cord: A surge protector is like a power strip that comes with electrical surge protection to keep your devices damage-free. While …
Imagine yourself trying to complete daily home chores without the help of your appliances because there are not enough plugs to provide them with electricity. Seems scary, no? That's where power strips, surge protectors, and extension cords come in handy! However, many assume all of these mean the same thing, which isn't true. A surge protector is like a power strip that comes with electrical surge protection to keep your devices damage-free.
In contrast, an extension cord has a long cable that allows you to connect devices far away from an electricity source. Both are excellent assistance for your home and what you should prefer depends on your needs. But if you are still confused about these devices and their usage, worry no more. To help you, we have discussed the surge protector vs extension cord in detail, along with their significant differences. So, let's delve into the details to know more!
Power Strip vs Extension Cord: Major Differences
Before we dig into the major differences between a power strip and an extension cord, we must know more about these devices first.
What is a Power Strip?
Typically, a power strip is a product having multiple electrical sockets or outlets and a cable at the end to provide power to different devices from a single socket. Some power strips only have a variety of outlets, while others also feature USB ports to charge and run your electronics quickly.
Many power strips also have a surge protection feature and behave as a surge protector. With a surge protection power strip, you don't have to worry about extra voltage damaging your gadgets. Due to these fascinating reasons, the global power strip industry is quickly growing and is expected to reach $16.2 billion by 2027.
However, you should remember that not all power strips are known as surge protectors. There are many out there, but you should always consult the seller before sealing the final deal.
What is an Extension Cord?
An extension cord is a name given to a cable having a socket at one end and a plug on the other. It's typically used to provide power to far-placed electronics or to make an electrical outlet accessible from a distance. An extension cord only supports one electrical outlet at a time and doesn't have surge protection like some power strips. So, connecting a device with it means you are risking your devices in case there's some voltage disruption in your area.
Moreover, an extension cord doesn't provide power to multiple devices and supports only one device at once. This thing makes them quite inferior in surge protector vs extension cord. However, if we look at the positive side, an extension cord is a good choice when you want to provide power in outlying areas of your home. It's economical and doesn't go heavy on your pocket. You can buy either an indoor extension cord or an outdoor extension cord, depending on your needs.
Power Strip or Surge Protector vs Extension Cord 
Here are the primary differences between a surge protector vs extension cord to help you find the suitable option. Moreover, knowing these differences also saves you from using these terms interchangeably.
1. 
Safety
Regarding safety, in surge protector vs extension cord, the former comes with surge protection and is a safer option. In contrast, you will never find an extension cord with a surge protector, making it an unsafe option.
2. 
Number of Sockets
In the surge protector vs extension cord, the surge protector generally has sockets varying from 2 to 10 or, in some cases, more. While the extension cord only has one socket to get input.
3. 
Cost
The cost typically varies with the features and manufacturing of the concerned product. For instance, if you are buying a simple power strip with no surge protection, it will be inexpensive. However, if you are going with the one with a surge protection feature, then expect a bit more price. With extension cords, the price may vary depending on the material used and the cord length. But they are still more economical than power strips!
4. 
Usage Flexibility
As surge protector or power strip features multiple power outlets, they are proven to be more convenient for home and commercial usage. While the extension cord only supports one device at a time, making it relatively inflexible.
5. 
Shape
If you are looking for something more compact and slim to extend your home's power supply, an extension cord is what you need. The power strip has multiple outlets and can be slightly bulkier than the extension cord.
>> Difference between Surge Protector vs Power Strip
Can We Use an Extension Cord with a Surge Protector?
As both extension cords and surge protectors are very handy for home, many people think about connecting both devices. The most common question asked regarding this is, "Can you plug a surge protector into an extension cord?"
Well, the answer to this is both yes and no! Although both devices seem to be compatible and connect well, using a surge protector with an extension cord is against the NFPA guidelines.
There are a handful of safety and fire risks associated with using both of them together. Moreover, in the worst scenarios, you can even cause a fire in the room while using an extension cord with a surge protector. But no need to worry, as here are a few safety considerations that can make the usage of an extension cord with surge protector possible.
Safety Considerations
If both are new and not worn out, then you can connect them to get the right amount of power. However, try not to use them like this for more than four hours.

If the gauge size of the extension cord and surge protector is 14, then using them isn't a risk. But in case the gauge size is 14 for the extension cord and 13 for the surge protector, there's a fire risk.
Power Strip vs Extension Cord: Which Option is Right for You?
As mentioned earlier, there's no single answer for which you should choose in surge protector vs extension cord, and it mostly depends on your needs. However, if you know about your home's demands and want to know the best options in each category, here are some:
1. 
EVVR Energy Monitoring Smart Plug and Relay
Deciding the best in a smart power strip or surge protector vs extension cord or trying to connect both can make everything difficult. Looking at these issues, EVVR recently introduced their all-in-one EVVR Energy Monitoring Smart Plug and Relay.
It's a perfect combination of an extension cord and a surge protector, providing you with the best power solution! Having Homekit compatibility, this plug and relay make all your connected appliances smart. It perfectly connects with a 2-core and 3-core cable and can supply power of around 16 amps.
The best part about this is that it's environment-friendly, which means it doesn't contribute to carbon missions like other devices. Moreover, it's easy to install and set up, making it a top choice for DIY enthusiasts! The overload and thermal protection design keeps you and your loved ones safe from all electrical accidents. Plus, all your connected devices also stay protected from damage.
Key Features:
Energy-saving and environment-friendly design make it a must-to-have product.

The split-type style makes all the invisible or hidden outlets more accessible.

Connect it with the EVVR App to monitor the total energy consumption of your connected devices.

A button lock design and a magnetic retention relay ensure stability despite the devices being connected.

Allows you to set up automation scenes and give you full control over all the appliances.
EVVR has a range of smart home products that provide a complete and comfortable home experience. Introducing the EVVR Energy Monitoring Smart Plug – currently crowdfunding with an exclusive invitation for you to explore its features. Limited-Time Pre-Sale Alert! Get smart with EVVR Smart Plug at 30% to 55% off discounts!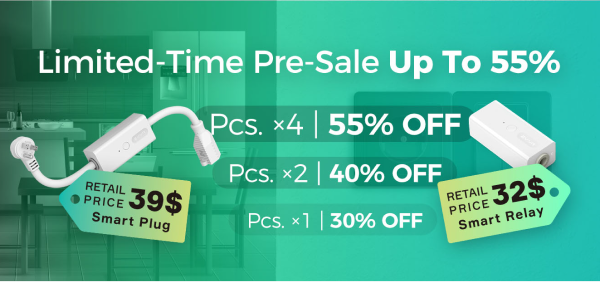 2. 
GE 6-Foot Extension Cord
If you are looking for only a suitable extension cord, then the GE 6-foot extension cord is a good choice. It's a 3-outlet indoor extension cord and ensures that no slim objects get stuck in its receptacles. Overall, it's a 16-gauge cable with a 13 amps power rating which isn't higher than the Evvr option but still useful enough.
The length of 6 feet is handy for all your indoor home and office power tasks. With it, you can say goodbye to appliance cluttering and have a safe operation when all three sockets are loaded.
Key Features
Three 2-prong sockets are suitable to power multiple devices.

The short 6-foot cord is suitable for some indoor home and office tasks.

The presence of a patented rotary socket reduces the overall risk of electrical shock or fire eruption.
3. 
Anker Power Port Strip
If you are looking for a high-quality and budget-friendly power strip with good surge protection, look no further than Anker Power Strip. It has an excellent Joule rating and keeps all the connected devices secure from unexpected damage. Moreover, there are 12 outlets and three USB charging ports, making your life easier and all your equipment running.
It's available in three different length variants that are 6, 8, and 10 feet. You should go with the one that best suits your needs and budget. With its overload protection, you can bid farewell to electrical hazards when multiple devices are inserted.
Key Features
Comes with 12 outlets and three USB ports to accommodate all devices.

A variety of length options give you a variety of selection options.

There's overload protection to manage load equally for all devices and prevent high voltage.
Conclusion
It may get difficult to select between a surge protector vs extension cord if you are unaware of their differences. Once you know about the purpose of both pieces of equipment, you can clearly make a decision. Although there are multiple devices available in this category, EVVR Energy Monitoring Smart Plug and Relay take the lead.
It is a combination product with the qualities of an extension cord and a power strip. Moreover, it's energy-efficient and environment-friendly, which makes it an ideal choice for many. Not only this, but EVVR also offers other products like EVVR Pad S, EVVR Hub, etc., to make automated homes. So, don't wait; contact us now to get your favorite products