Best Smart home control panel should be: Easy to install, high quality screen resolution, optimally incorporate monitoring and security system …
Smart home automation has made life easier and more convenient for everyone. Due to this, almost every home now has a handful of smart devices that communicate with each other and perform all the home tasks efficiently. According to Statistica, an average home in the United States has almost ten connected devices. Having smart home devices definitely feels like a cool breeze on a sunny day, but the real trouble arises when you are unable to control all the devices at once.
So, to help you get the most out of all your smart home devices or security systems, a smart home control panel is the right choice. They make it easy for you to control or manage all intelligent devices, whether at home or away. Let's discuss what a smart home control panel is, its working, its benefits, and the best smart home control panel for you!
What is a Smart Home Control Panel?
Typically, a smart home control panel is a keypad or smart home panel that allows you to manage and control all the smart devices and various aspects of your smart home with an innovative touchscreen. In simple words, a smart home panel is a custom panel or tablet installed on the wall that enables you to add and manage smart devices from an all-in-one app.
It is also called a base station, home automation system, smart hub, etc., depending on the type of your smart home system. However, the name doesn't change their functions, and all smart home control panels perform the same functions. These include
Closing and opening home locks

Creating a lighting schedule
There are many more functions of a smart home control panel, as it is known as the brain of your best smart home system and connects all the wireless devices so they perform every task efficiently.
What Does a Smart Home Control Panel Do?
Nowadays, smart home control panels have a sleek touch screen instead of a clunky keypad, perfectly complementing your home decor. The touchscreen has a high resolution, WiFi connectivity, excellent color displays, microphones, and speakers.
All these features combine to offer you the best home automation experience. Although the functionality of every smart home panel varies from brand to brand, here are a few common things that you can manage with your smart home control panel:
Control your home's security system

View your security camera footage anywhere

Have full access to your front and garage doors

Get updates about local weather and emergency situations

Ask for immediate help in case of emergency or panic
Benefits of a Smart Home Control Panel
Here are the benefits of a smart home control panel to let you know how its installation can make life easier:
1. 
Keeps You Updated
The first benefit of a smart home control panel is that it keeps you updated about everything happening in your home. For instance, it'll send you a notification or chime when someone opens your door to enter or leave. You can also use it to see real-time video of your baby from the camera you've installed in their room.
2. 
Doors Stay Safe
A knock on the door when you aren't expecting anyone or are busy with something can be irritating. However, a smart home control panel frees you from this tension as it has a one-way camera and two-way voice features. So, when someone knocks on your door, you can utilize the panel to see them through the camera and answer them with the voice feature. It also keeps your home safe, as you can see if someone unknown is trying to enter it.
3. 
Immediate Help in Emergency
Here comes the most fantastic benefit of a smart home control panel with an integrated panic button. When you click on it, the monitoring unit will contact the emergency department on your behalf. This button proves to be very useful when you feel someone's trying to break into your home or when a family member has a medical emergency.
5 Best Smart Home Control Panels
Now that you know the amazing benefits of a smart or lighting control panel let's look at the top smart home panel options. This will help you find the best smart home control panel that can help you take a step toward home automation.
1. 
EVVR Pad S
Known as the best smart home control panel, the EVVR Pad S has a handful of exciting features. With an integrated linear resonant actuator, this fantastic in-wall home control panel is perfect for all your smart home automation problems. The EVVR Pad S ensures that all of its users get seamless control over all the smart devices and get the best out of everything. This product is compatible with Z-Wave, ZigBee, and WiFi, so you can manage everything from your home's music and alarms to doors, security systems, and much more.
This best smart home control panel has a sleek design and looks like a wall frame that perfectly blends with your home decor and doesn't need any home construction upgrades. What makes it best is that it also features a motion detection sensor that detects movement and starts working immediately.
Hence, you don't even have to send voice commands for this best home control panel to get started. All the data is stored in local storage, not in the cloud, so users can enjoy peace of mind and be protected from potential hackers. Let's talk about the pros of EVVR Pad S - the best smart home control panel:
Pros:
A budget-friendly option with a handful of exciting features

Easy and quick installation

Compatible with ZigBee, Bluetooth, and WiFi

Highly reliable and secure with local data storage

Seamless movement detection due to Time0of-Flight ranging sensors
EVVR has a range of smart home products that provide a complete and comfortable home experience. Introducing the EVVR Energy Monitoring Smart Plug – currently crowdfunding with an exclusive invitation for you to explore its features and secure a remarkable 40% Super Early Bird discount. Join us in shaping an energy-efficient future.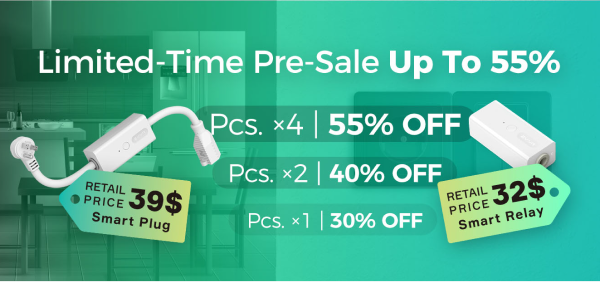 Limited-Time Pre-Sale Alert! Get smart with EVVR Smart Plug at 30% to 55% off discounts!
2. 
Brilliant Smart Home System
The first item listed among the best smart home control panels is this Brilliant Smart Home Controller. It's a small in-wall controller that replaces the traditional smart light switches and allows you to control all the smart gadgets easily. The Brilliant panel features a 5-inch LED display or touchscreen that connects to your home WiFi network without any delay. If you don't want the screen to be on all the time, use the motion sensor to turn it off.
Moreover, it's also compatible with Homekit, which means if you have Apple products, you can operate the Brilliant Smart Home Controller from them anywhere at any time. To make usage easier for you, the panel features a built-in Alexa, so you can give voice commands and communicate to all smart devices through it. Just install the Brilliant app and get real-time updates about everything going on in your home. Let's examine the pros and cons of Brilliant Home Controller:
Pros:
Built-in Alexa and smooth touchscreen

User-friendly interface

There's no need for any specific subscription.
Cons:
Needs electrical wiring

Very expensive

 
3. 
Sonoff NSPanel Smart Scene Wall Switch
The Sonoff NSPanel is another best smart home control panel and comes with a detachable 3.5-inch touchscreen. The touchscreen is placed over two wall switches, making it look different from other products of the same category. You need to configure it with the eWeLink app, and as soon as you do, the best smart home control panel will detect your location and set the local weather and time.
As it has a built-in thermostat, it'll automatically trigger the cooling and heating system of your home to start working. You can use the touchscreen, the eWeLink app, and the switches installed below to control everything through the Sonoff NS Panel. Here are its pros and cons:
Pros:
Multi-way control

Automatic thermostat feature

Compatible with all Sonoff devices
Cons:
Software isn't up-to-the-mark

It doesn't offer customization

 
4. 
Staniot Smart Home Control Panel
The last one of our best smart home control panels is the Staniot home control panel. This Staniot Secpanel features five smart security systems to keep your home safe and secure all the time. It has a 4.3-inch touchscreen configured with alarms, thermostats, sirens, etc. The standout feature of this best smart home control panel is its versatile design, so you can either place it on the desktop or mount it on the wall.
Moreover, the integrated motion detection feature has a wide angle of 110 degrees. So, whenever someone enters or tries to break into your home, this smart home wall panel sends a quick chime to alert you. The Alexa and Google Assistant compatibility of this panel enables you to communicate with all your smart devices through voice commands. The following are the major pros and cons of the Staniot Smart Home Control Panel:
Pros:
Top-notch motion and entry sensor

Excellent security system

Versatile design
Cons:
Conclusion
A smart home control panel is a perfect product that gives you full control over all your smart home devices. The best smart home control panel in this regard is the EVVR Pad S, which features a sleek touchscreen and powerful processor. Moreover, it keeps your home safe by actively communicating with security alarms and has a motion detector.
With this, you can easily manage all smart home devices, such as your HVAC system, entertainment devices, smart kitchen appliances, doors, etc. If you want other home automation devices, EVVR offers a variety of products, such as the EVVR in-wall relay switch, EVVR Hub, EVVR Center Lite, etc. So, don't wait; grab your favorite smart home products from EVVR and get complete control over your home's devices.