A smart hotel intimately connects the different services and appliances of a traditional hotel room and creates a wireless system to control them all. Dive in for more information about this fascinating technology!
Imagine going to a hotel room and checking in. But instead of traditional keys, you check in with your smartphone. When you step into the room, the lights automatically turn on. Feeling particularly hot you decide to turn on the air conditioner with voice control.
After a while, you feel like ordering room service through your smartphone and eventually, they are delivered by a robot staff at your door. All of these scenarios here are the different functions and facilities of a smart hotel.
What Is A Smart Hotel? 
A smart hotel is a hotel that uses smart devices and technologies to create a controlled and internally connected system. They have a common IoT platform where all the devices are connected and can be used to control the different aspects of the hotel room.
For example, we all know about automatic doors, automatic and remote-controlled curtains, voice-controlled smart lights and speakers, etc. The possibilities are numerous and anything can be smart these days.
So, basically, a smart hotel is a hotel full of smart devices and technologies that are closely connected and able to perform automatically and in some cases intelligently by taking information from the internet.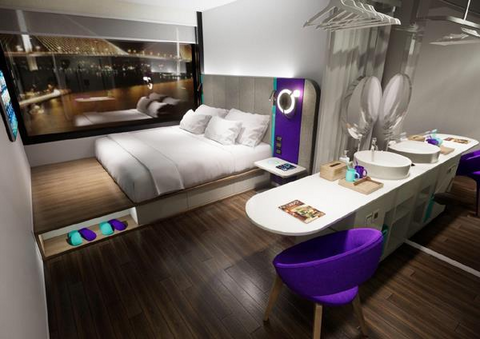 >> How can smart home help with your Airbnb hosting issues
Advantages of Smart Hotel
A smart hotel is a concept that benefits both the customer and the hotel owners. But how? Let's take a look at them.
Convenience
One thing about smart hotels is the convenience they offer to both the customers and the hotel workers.
Customers can search for and book rooms online and similarly smart hotels make the later processes automatic and online as well.
Starting with checking into the hotel room, they don't need any physical keys for that. Rather, soft keys on their smart devices offer quicker check-in or check-out through their smartphone.
Other services like room services, booking special events, renting cars, everything can be done online without needing to meet any hotel staff. This saves time and effort and effectively makes everything quicker.
At the same time, it's easier for the hotel staff as well, in the very same way. Automated hotel management systems significantly reduce the cost to run a hotel.
On top of that, they can reallocate their time from things that can be automated and move it to somewhere where their presence is absolutely needed.
Easy Interaction
Interaction between the guest and the staff is needed for a better experience for the customers and for the staff to have control over their services. And, smart hotels make this interaction 10x times easier.
Due to the internally connected system, the guest can ask for services online and the staff can cater to them accordingly. Besides, the customer can also leave reviews on their experience so the hotel committee can analyze where they need to improve and how.
It eases out the general interaction process where the guests can feel like they are being cared for and the staff can have a better idea of what their customers need.
Full Control
Automation and control play the most critical role in the smart hotel concept.
In a smart hotel, the amenities and services are mostly automatic. And the power to control them is in the hand of the guest.
The control system is wireless or remote-controlled. So, the resident can easily control them through the related app or the remote provided by the hotel.
The automatic features include locking and unlocking the door, drawing and opening the curtains, turning the TV on or off, the whole lighting system, sound system like speakers, etc.
Apart from these usual amenities, there can be other services that are automatic as well.
Not only the guest but also the hotel staff can also control these features remotely without getting into the room. It gives the residents privacy while still being cared for by the hotel personnel.
Sustainable
One thing about smart technology is that they focus on eco-friendly options to sustain the environment. And smart hotel technologies are no different. For example, hotel room lighting systems that dim or turn the lights off when there is no one in the room or thermosets that control the temperature and set them to lower settings when seen fit.
All these little functions help reduce energy consumption significantly.
Besides sustaining the environment, let's not forget that it also adds to the positive publicity of the hotel. Now people are more aware than ever of the increasing carbon footprint. So, they tend to look for hotels that are eco-friendly and care about the effect they are putting on the environment.
Better Customer Experience
The popularity and demand of smart hotels depend almost solely on the customer experience. The better the experience, the more reason for guests to go back there.
A very effective way to enhance customer experience is using real-time mapping solutions. This interactive technology is one of the best ways to search for common information like nearby restaurant locations and their opening hours, available public transportation and renting a car, nearby tourist attractions, popular places, etc.
There are also other ways to improve customer experience through smart hotel IoT. Due to the easier and quicker interaction between the staff and the guests, customer demands can be looked after immediately.
The hotel personnel can also keep an eye on the performance data of the different smart devices in real time. So, if there is a problem, they can fix it as soon as possible.
Personalization
For business travelers and people that like to feel a bit more at home, personalized forms of entertainment increase the appeal of a smart hotel room. In the past few years, smart hotel owners are becoming more adapted to the concept of providing their customer's ways to access their personal accounts for entertainment purposes.
Now residents can sync to their Netflix, amazon prime, Spotify, and other entertainment accounts to have an even better time.
Some smart hotels also offer facilities like syncing your audiobook and the smart speaker. These can also be controlled through smartphones.
How to Make A Smart Hotel - Some Examples of Smart Hotel Technology
With the soaring popularity of automated hotels, there are numerous possibilities and examples of how to make a hotel room smart. Let's take a look at a few of these smart hotel technologies.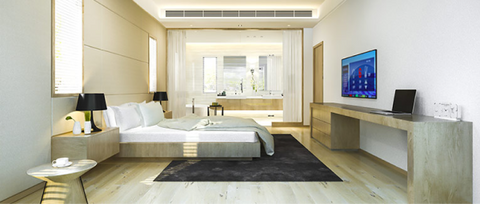 Internet of Things
IoT or the internet of things is the main basis of smart hotels. It's an online platform that connects all smart devices through the internet. It can be the lights, air conditioner, curtains, doors, windows, smart tv, etc. IoT syncs all of these in a common platform that can be controlled wirelessly through the smartphone.
Automation Hubs
The automation hub is a multi-protocol controller that connects wirelessly with the hotel automation devices with a wireless connection.
For example, we can talk about the Evvr Hub. It is an in-wall multi-protocol local smart home controller. Nevertheless, they are one of the many smart technologies being used in smart hotels recently. Some of the functions of Evvr Hub include,
Can connect wirelessly with a wide range of automation devices while working as a WiFi access point
Can operate multiple smart devices from different manufacturers with one single interface
Protect user privacy by storing data locally
Data encryptions assure secure peer-to-peer connection while accessing the devices remotely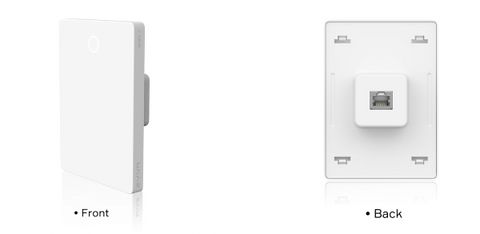 Soft Keys
Checking in and out is now easier than ever with soft keys. No more countless trips to the front desk every time you need to go out or come back from outside.
Not only does it save the time and effort of picking and dropping off the keys, but it also eliminates the need to replace the keys every time one of them is lost.
Robots as Staffs
Robotic technologies have been a lifesaver in the recent covid situation. Even with the covid somewhat in check, smart hotels are getting more interested in using robots because of multiple advantages.
For one, they can cater to their client's privacy preferences in many instances. At the same time, they can reallocate their manpower to somewhere where an actual human touch is needed.
Smart Lighting
A smart lighting system is one of the most common aspects of smart hotel design. It offers the guests the convenience to control the lighting system with just one tap.
In-wall relay switches are extremely effective in this case to create a closely controlled lighting system.
For example, you can take a look at the Evvr in-wall relay switch. Its unique split design with a conveniently small design, flexibility with all switches and bulbs, ability to create multiple lighting scenes, etc, makes it one of the much-needed smart hotel technologies.
Thermal Sensor
Many hotels are incorporating thermal sensors in their hotel rooms as well. These smart sensors can detect movement in a space to control the power accordingly. This is an efficient energy saving and eco-friendly option for smart hotel technology.
Conclusion
Smart and automated hotels have long been a pipe dream. But with the surge of smart home technologies, it's not a dream anymore. Hotel owners these days are getting more familiar with the concept and benefits of smart hotels.
With technologies like automation hubs, smart lighting, and IoT Platforms, it's not far from every hotel is a smart hotel.
Evvr can offer you a comprehensive smart home solution whether you are an integrator, professional installer, distributor, or DIYer.  Get in touch with us and become our partner today!